Congratulations to Addie Seebode (Varsity Gymnastics) and Jayson Capullo (Varsity Bowling) for earning DOW (Dutchmen of the Week) honors for February 13.
Addie Seebode (Varsity Gymnastics)
Addie had a strong finish to her 2022-23 season. At sectionals, Addie placed first in both the Floor and the Beam. Her performance qualified her for the NYSPHSAA Gymnastics Championship Meet, which she participated in on March 4th at Kenmore West HS. Way to go, Addie!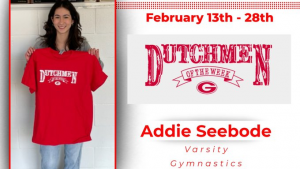 Jayson Capullo (Varsity Bowling)
At Class A Sectionals, Jayson had the high single for all bowlers (280) and the second highest six game total (217 average). His performance helped his team to a third place finish. Jayson missed going to the state championship meet by only 50 pins. Jayson is a tremendous role model for the younger bowlers while possessing characteristics such as encouragement, selflessness, being a good teammate and an ultimate competitor. Congratulations, Jayson!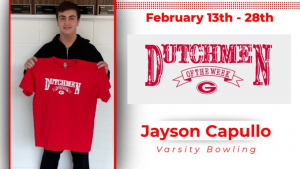 Each week, we will highlight two student athletes (Modified, Mod 9, Frosh, JV or varsity level) for athletic accomplishments based on the following criteria.
The athlete should have made a significant impact on a contest within the nomination time frame, which is the week prior to selection; or…
The athlete must have shown excellent leadership, sportsmanship, noticeable improvement/effort, community service and/or other notable trait(s).