Congratulations to Alexa Kosier (Varsity Track & Field) and Christian Walsh (Varsity Baseball) for earning DOW (Dutchmen of the Week) honors for the week of April 24.
Alexa Kosier (Varsity Track & Field)
Alexa had an amazing week of races last week. At a dual meet vs Shen and Bethlehem on April 25, she had an outstanding triple. She ran a strong leg in the 4 x 800 to help her team win the event, she ran an all time PR in the 400 hurdles, and then, with very short turnaround time, she won the 300m in a very fast time of 10:59.6! On April 28, she ran a great split (2:23.12) to help her 4 x 800 team place 13th at the Penn Relays. After she was done running, she remained at the meet to support her teammates. She is an amazing competitor and a caring teammate.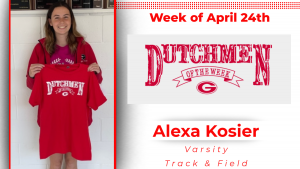 Christian Walsh (Varsity Baseball)
Christian has had outstanding back to back outings on the mound for the Dutchmen baseball team. On April 24, he helped his team knock off previously unbeaten Shenendehowa with a strong performance. He pitched a complete game shutout, surrendering only 3 hits and striking out 6 batters. He was very efficient, throwing only 87 pitches. On May 2, Christian delivered another complete game shutout in a win over Averill Park. His stats on the mound were nearly identical from his game vs. Shen. Christian's play has helped his team win 6 of their last 7 games.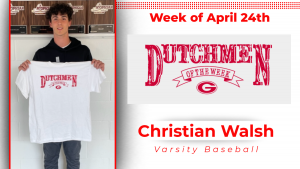 Each week, we will highlight two student athletes (Modified, Mod 9, Frosh, JV or varsity level) for athletic accomplishments based on the following criteria.
The athlete should have made a significant impact on a contest within the nomination time frame, which is the week prior to selection; or…
The athlete must have shown excellent leadership, sportsmanship, noticeable improvement/effort, community service and/or other notable trait(s).