Congratulations to Amelia Krywanczyk (Modified Track and Field) and Cole Miller (Varsity Baseball) for earning DOW (Dutchmen of the Week) honors for the week of April 17.
Amelia Krywanczyk (Modified Track & Field)
Amelia Krywanczyk is a dedicated student athlete on the modified track & field team. Last week, she competed in her first modified track meet and performed well. She threw a distance of 29'03" in the discus and 14'06" in the shot put. She comes to practice each day with a positive attitude and a willingness to work hard. She is a perfect example of what a Guilderland student athlete should be!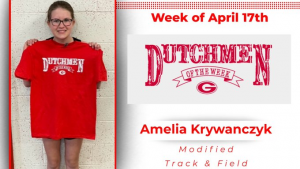 Cole Miller (Varsity Baseball)
The varsity baseball team earned victories over Niskayuna and CBA last week and Cole Miller was a big reason why. Cole was on the mound for both victories. All in all, he pitched a total of 8 innings last week, surrendered only 2 hits, struck out 12 batters and earned both a save (Niskayuna) and a win (CBA). He has helped his team win four games in a row!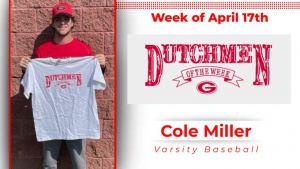 Each week, we will highlight two student athletes (Modified, Mod 9, Frosh, JV or varsity level) for athletic accomplishments based on the following criteria.
The athlete should have made a significant impact on a contest within the nomination time frame, which is the week prior to selection; or…
The athlete must have shown excellent leadership, sportsmanship, noticeable improvement/effort, community service and/or other notable trait(s).