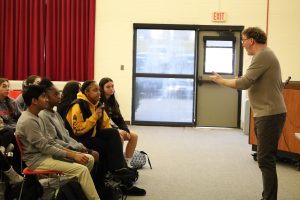 Recently New York Times bestselling author Brendan Kiely visited tenth grade English classes at Guilderland High School. He spoke to students about what has inspired and motivated his writing and answered their questions.
Kiely is the author of "Tradition," "The Last True Love Story," "The Gospel of Winter" and "The Other Talk"; he is the co-author of "All American Boys" with Jason Reynolds. According to his website, Kiely's books "participate in relevant cultural conversations." He writes "stories that try to honor the dignity and grace of people caught up in the complexities of our day. Ultimately, I write in search of hope."
His books are self-described "realistic novels that reflect realistic experiences of young people." While he covers a range of social justice issues, he also writes with some common themes. Kiely spoke to the GHS students about the effect language has on attitude and how, in turn, attitude affects behavior. As he states, "I believe in the power of storytelling and language to do that."
Another concept Kiely spoke about, that often appears in his writing, is the importance of listening; how listening is an action, it requires courage and strength, and it is empowering. Kiely encouraged the students to "lean into their personal stories, to tell real truths." By doing so, Kiely believes young writers can find the language that will empower themselves to have difficult conversations.
GHS students had the opportunity to ask Kiely questions, covering topics from his writing process to specific plot points of his novels to his own college experience.
Kiely left students with the encouragement to write with a listening heart. He believes young people have stories to share; by sharing their stories they will have the opportunity to teach others what the world needs. He urged students to participate in the language of empowerment to build the future they want to see.
Kiely's books have been published in more than a dozen languages and he has received the Coretta Scott King Author Honor Award, the Walter Dean Meyers Award and ALA's Top Ten Best Fiction for Young Adults. A former high school teacher, Kiely is now on the faculty of the Solstice MFA Program.