Congratulations to Chrissy Macri (Modified Cross Country) and Skyler Van Wormer (Varsity Field Hockey) for earning DOW (Dutchmen of the Week) honors for the week of October 10.
Chrissy Macri (Modified Cross Country)
At the modified cross country home meet on Oct. 12 at Tawasentha, Chrissy placed 7th overall in a field of more than 50 runners. In doing so, she earned a personal record by 29 seconds! Chrissy works extremely hard at practices. She gives 110% at everything she does. She has a bright future in long distance running. We are lucky to have Chrissy on our team.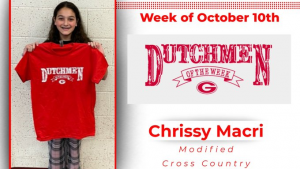 Skyler Van Wormer (Varsity Field Hockey)
Skyler and her team set a new record for Guilderland field hockey this week with the most regular season wins (11) in the history of the program. This week, the Lady Dutch went 3 and 0 with two victories over Shenendehowa and a win over Saratoga in overtime, in which Skyler scored the sudden victory goal. Skyler has set the scoring pace for the Lady Dutch with 13 goals and 6 assists on the season so far.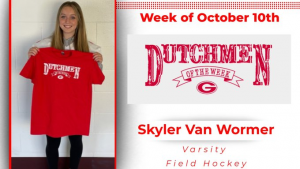 Dutchmen of the Week
Each week, we will highlight two student athletes (Modified, Mod 9, Frosh, JV or varsity level) for athletic accomplishments based on the following criteria.
The athlete should have made a significant impact on a contest within the nomination time frame, which is the week prior to selection; or
The athlete must have shown excellent leadership, sportsmanship, noticeable improvement/effort, community service and/or other notable trait(s).