Congratulations to Christina Macri (Modified Track & Field) and Mason Paniccioli (Modified Track & Field) for earning DOW (Dutchmen of the Week) honors for the week of May 15.
Christina Macri (Modified Track & Field)
Chrissy capped off her modified track season with a great performance at the Stillwater Modified Invitational. She recorded her personal best on the season in the 100 meter at 14.45, while also helping her 4 x 100 place fifth overall at the meet. Chrissy always has a positive attitude and works extremely hard during practice. She is always encouraging her teammates and helping out wherever she can. Congrats on a great season!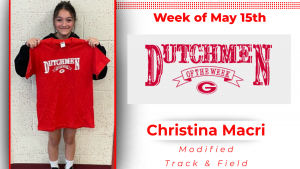 Mason Paniccioli (Modified Track & Field)
Mason is a fantastic eighth grade student on the modified track team. Recently, Mason stepped in to help out his teammates in the 4 x 100 relay race when another athlete was unable to run. The next day, Mason was selected to compete in the Stillwater Invitational. While at Stillwater, he helped lead his team to success in the 4 x 100 relay with a time of 56.63. Mason also raced in the 100 meters and earned a time of 13.01, a new personal record. Mason always comes to practice with a great attitude and works incredibly hard every day. We are so proud of him and all that he has accomplished.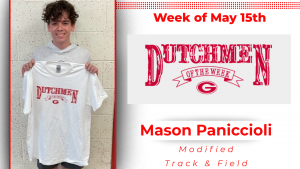 Each week, we will highlight two student athletes (Modified, Mod 9, Frosh, JV or varsity level) for athletic accomplishments based on the following criteria.
The athlete should have made a significant impact on a contest within the nomination time frame, which is the week prior to selection; or…
The athlete must have shown excellent leadership, sportsmanship, noticeable improvement/effort, community service and/or other notable trait(s).