Each year, thousands of student musicians in New York State compete for an opportunity to be selected for the prestigious NYSSMA Conference All State Music Ensembles. Admission to these highly selective groups is based upon the score received the previous spring during the NYSSMA Solo Evaluation Festival, where each student performed before a certified adjudicator who carefully evaluated every aspect of their performance.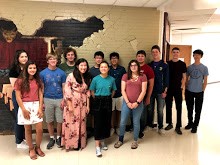 The Guilderland High School music department is proud to announce that eight students were recognized for their exemplary performances, including: Jesse Cohen-Greenberg, Mixed Chorus, Morgan Dempsey, Treble Chorus, Aidan Fusco, Symphonic Band, Alyssa Koh, Vocal Jazz, Vivian Redmond, Wind Ensemble, Alan Wang, String Orchestra, Tracy Wei, Symphony Orchestra, and Kenny Yamishita, Symphonic Band.
These talented students will spend four days rehearsing in Rochester with gifted students from across the state, with the event culminating in a concert at Kilbourn Hall at the Eastman School of Music. Jesse will be singing in the All-State Mixed Chorus under the direction of Dr. Jerry Blackstone (University of Michigan); Morgan will sing in the All-State Treble Chorus under the direction of Dr. Lori Hetzel (University of Kentucky); Alyssa will sing in the All-State Vocal Jazz under the direction of Rosana Eckert; Alan will perform with the All-State String Orchestra under the direction of Dr. James Mick (Ithaca College); Tracy will perform in the Symphony Orchestra under the direction of Donald Schleicher (University of Illinois), and Aidan and Kenny will perform in the Symphonic Band under the direction of Jay Gephart (Purdue University).
Additionally, we commend the following students who were chosen as alternates in the various All-State Ensembles: Aidan Doyle, Hyrum Durfee, Grace Leininger, and Glenn Trechel.
Congratulations to all the musicians, their teachers, and parents on this outstanding accomplishment!!