Guilderland schools have donated an astounding 1,230 books to Project: Cameron's Story, surpassing the 1,000 goal that had been set.
A special thanks to the FMS community, who banded together to collect a large number of books. The three seventh-grade teams and FMS Student Council each held their own collections, with a lot of students bringing in their own money [to purchase books] from babysitting and birthdays.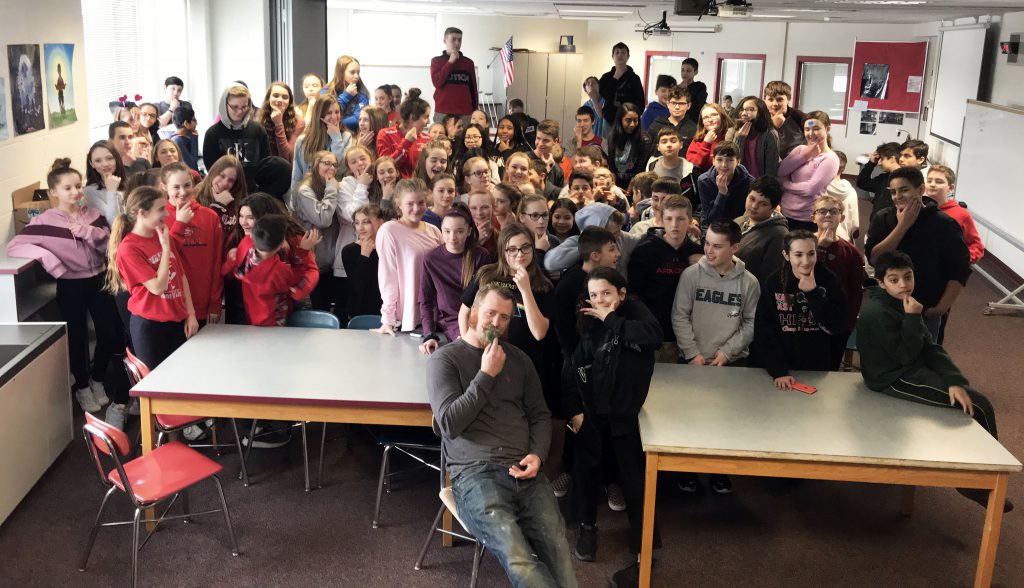 Seneca 7 garnered their extra support through a fun "Vote to shave Mr. Duesler's beard." Mr. Duesler shaved and dyed his beard green the day before February vacation.
For Guilderland's Project: Cameron's Story coordinator, teacher Jamie Mullins, this is an organization near to her heart. Her own son, born premature, was a recipient of a Project: Cameron's Story book.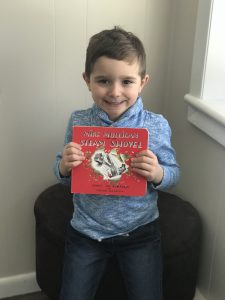 At the organization's gala, held on February 28, Mullins spoke about the impact the organization has had on her family.
"I was honored to be one of the keynote speakers at the Project: Cameron's Story Gala, giving my perspective as a family impacted by this amazing organization. In my introduction, they highlighted the astonishing contribution the GCSD has made to their mission. I was beyond proud to be a part of the Guilderland teaching staff and community. Project: Cameron's Story provided a beacon of hope to my family during our NICU stay."
This year, the total books collected has been the second highest ever collected at 21,279!
---
Project: Cameron's Story
This year, give Guilderland Schools served as collection sites for Project: Cameron's Story.
Project: Cameron's Story is a not-for-profit organization that collects new children's books for families of babies in the neonatal intensive care unit (NICU) at more than a dozen hospitals throughout New York.
Farnsworth Middle School, Altamont Elementary, Guilderland Elementary, Pine Bush Elementary, and Guilderland High School collected book donations from Feb. 4-15, 2019. This is the fifth year Guilderland schools have participated. Last year, the district donated a total of 730 books and this year the goal was to reach 1,000 books!
The goal of Project: Cameron's Story is to support the bonding of parents with their premature babies in the NICU through the use of children's literature and storytelling. To learn more about the organization, please visit the Project: Cameron's Story Facebook page or the organization's official website.
Several Guilderland teachers have been touched by this program including Jamie Mullins, a social studies teacher at FMS. Regionally, donations will benefit babies at Albany Medical Center, St. Peter's Hospital, Crouse Hospital, Stony Brook University Hospital, Golisano Children's Hospital, UHS Wilson Medical Center, and Glens Falls Special Care Unit.
---
Guidelines For Books:
New books only because books will be donated to babies in a sterile environment.
Due to the various religious beliefs of families, they have asked to avoid donating books that are overtly religious in nature.
It is helpful if the books are of medium to large size, with lots of pictures and story line to give parents an opportunity to engage in a 10-15 minute period of reading.
Suggested titles include: Mike Mulligan and His Steam Shovel, Stellaluna, Love You Forever, Where the Wild Things Are, The Poky Little Puppy, The Little Engine That Could.
Drop-off locations
Farnsworth Middle Schools students can return completed orders and/or bring books to any house office as well as at reception.
Altamont Elementary students can drop order forms off in the main office and books to Mrs. Normile's room.
Guilderland Elementary students can drop order forms and books to Mrs. Hanson's room.
Guilderland High School students can drop off to the West Office.
Pine Bush elementary students can drop off order forms and books to Mrs. McLean.
For more information on the collection program, please contact Jamie Mullins.