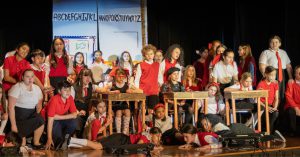 Farnsworth Middle School Mask proudly presents Roald Dahl's Matilda Jr. in a three-performance run: Mar. 3 -4, at 7 p.m. and Mar. 5 at 2 p.m. Performances will be held in the Cafetorium at Farnsworth Middle School, 6072 State Farm Rd, Guilderland. All performances will be interpreted for the deaf and hard of hearing.
Tickets are available for presale on Monday, Feb. 27. Presale tickets are $9 and can only be purchased at FMS during the school day, Monday, Feb. 27- Friday, Mar. 3. , until 1:30 p.m. Tickets purchased before performances at the door are $10 each; all seats are general admission with no reserved seating. Handicap seating will be available. Doors will open 30 minutes before each performance; feel free to arrive earlier to wait in line.
For ticket reservations (Will Call) or for more information, please contact Shannon O'Mahony at fmsmask@guilderlandschools.net or use this link  Matilda Jr. Ticket Reservations to reserve tickets.
Please note, tickets reserved via the link and not pre-sold during the week are $10.
The production is directed by Steve Suriano; musical direction by Terri Mewhorter and choreography by Francesca Soldevere. With over 100 amazing students in the cast and crew, the show is going to be a dazzling performance. We hope you will join us!