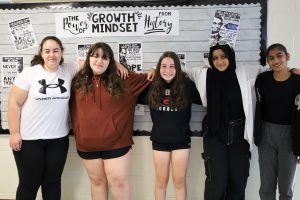 Five Farnsworth Middle School seventh grade students were named winners of the 26th Annual Black History Creative Expressions Contest; they are Lusiana Bardhi, Abbie Colloton, Sumiya Kaurejo, Swara Sadavarte and Zenaida Smerznak.
Sponsored by the Albany (NY) Alumnae Chapter of Delta Sigma Theta Sorority, the contest was open to Capital District students in grades 3-12. The call for entries celebrated the significant impact of Black individuals, groups, events, experiences, movements or outcomes on people of color. Contest participants could submit computer-generated art, photography, poetry, original painting, essay, song, collage or drawing. Entries were categorized as written, oral or artistic expression.
Under the direction of Mohawk 7B teachers Lauren Fox, Jamie Mullins and Heather Tagliaferro, the students completed collages as part of an assignment in a combined language arts-social studies class. Each FMS student chose an individual to feature for their artistic expression submission.
Swara choose Michelle Obama because she was inspired by what Mrs. Obama has done for others, specifically how she has "stood up for girls who want to learn more and reach higher."
Muhammed Ali was the first person who came to mind when Sumiya thought of Black history. "I thought it would be a creative project."
Abbie selected Diana Ross because "one of my favorite Diana Ross songs is 'Ain't No Mountain High Enough.' She has faced things that were difficult and that is an inspiration."
Zenaida chose Lauren Hill because "she's very important to the music community" yet Zenaida hasn't seen a lot of projects featuring Hill.
Michael B. Jordan, the actor, was the subject of Lusiana's project because she wanted "people to know more about him."
On Sunday, May 21, the Albany (NY) Alumnae Chapter of Delta Sigma Theta Sorority held a reception for the winning students, their family and guests at the New York State Museum Cultural Center, which the FMS students agreed was "beautiful."