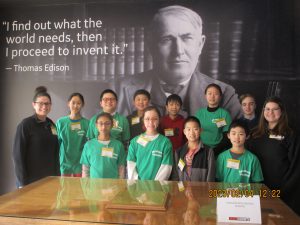 The Farnsworth Middle School team earned third place in the regional qualifier of the National MATHCOUNTS program on Saturday, Feb. 2. Held at GE's Research Center, the competition was hosted by the Capital District Chapter of the New York State Society of Professional Engineers and featured 92 Mathletes competing from 13 Capital District middle schools.
The FMS team is composed of the following members:
Jordan Baker
Aria Ferguson
Brian Jiang
Roger Sheng
Mark Shao
Hamsini Subramanian
Ben Xu
Dominique Zen
Catherine Zhong
Thomas Zhong
Rebecca Been, Coach
Ashley Girard, Coach
Two students, Jordan Baker and Dominque Zen, scored in the top 12 to earn spots in the Countdown Round, with Jordan taking third place. The Countdown Round is an intense round that focuses on speed and accuracy, where students have a maximum of 45 seconds per math problem without using a calculator.
By earning third place, the FMS team advances to the state finals, which will be held on March 4 in Saratoga Springs.
Lana Osusky, Technology Manager for Aero and Thermosciences at GE Research and a former student Math competitor herself, was the featured speaker during the awards ceremony. She discussed how math is both sport and a powerful tool of discovery for researchers, stating, "As a middle schooler, I vividly remember the fun and thrill of participating in math competitions. What I came to appreciate over time as an engineer is just how often we use mathematics to answer tough questions and solve real- world problems. But I can guarantee everyone that no matter what career path you ultimately choose, math will be an invaluable skillset you use in everyday life both at work and at home."
About MATHCOUNTS
In its fortieth year, MATHCOUNTS is a nationwide program designed to improve math skills among U.S. students in a way that's fun and engaging. Sponsors target middle school students, who are at a critical stage in developing and sustaining math interest and ability.
Preparations for the competition with teachers and students have been underway since the fall. Students compete individually and as teams in written and fast-paced oral matches. Subjects include algebra, probability, statistics and geometry.
The 2023 MATHCOUNTS competition consists of 500 local chapters from all 50 states, the District of Columbia, U.S. territories and Department of Defense and State Department affiliated schools.