Four GHS seniors Rubin Chen, Sidra Hasan, Tasnim Naina and Sonal Swain recently had the opportunity to meet with three leaders in the field of immunotherapy, one of whom would be awarded a Nobel Prize just one week later.
On September 26, the seniors attended the 2018 Albany Medical Center Prize in Medicine and Biomedical Research ceremony, where three researchers were being recognized for their revolutionary work in treating cancer and other diseases.  Of the honorees,  Dr. James P. Allison of MD Anderson Cancer Center, was just awarded the 2018 Nobel Peace Prize in Physiology and Medicine.  [Dr. Allison shares the prize with Dr. Tasuku Honjo of Japan, for their discovery on how to harness the body's immune system to fight cancer.]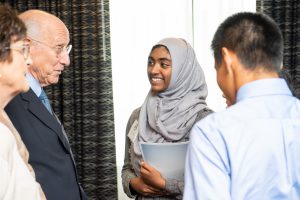 Tasnim Naina, an aspiring dermatologist said, "I was truly inspired to hear these scientists speak and answer questions…I hope that one day I can make a great difference in the medical field as well!"
Sonal Swain said, "Over the summer, I took part in research at [Albany Med's] Microbiology and Immunology Department, where I studied HIV and other viruses, so when [Guilderland High School Principal] Mr. Piscitelli shared the invitation with me and I looked into the scientists who would be attending, I realized these were the same researchers whose works I had been reading over the summer!"
"It was truly incredible to be five feet from the same people I had been reading…and admiring. It was an eye-opening experience and something that most people, let alone high school students, wouldn't necessarily get to experience."
Principal Piscitelli, Assistant Principal Ann-Marie Springsteen and Board of Education President Christine Hayes were also in attendance.
A special thanks to Albany Medical Center for the opportunity to attend.