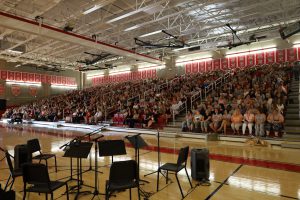 Guilderland Central School District faculty and staff gathered in the west gym of Guilderland High School on the morning of Tuesday, September 5, to mark the beginning of the new school year. The traditional superintendent's conference day began with a slightly different twist this year, as district administrators entered the building in a way that can be described as a "joy ride."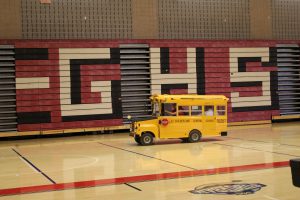 To applause and cheers, Dr. Marie Wiles drove a mini GCSD school bus, with Assistant Superintendent for Curriculum and Instruction Rachel Anderson and Assistant Superintendent for Business Dr. Andrew Van Alstyne as passengers, into the GHS west gym. This unique entrance wasn't just for effect; it reinforced a theme of sorts for the meeting.
Reflecting on the joys and challenges of teaching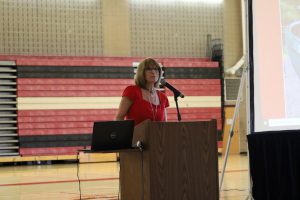 In her presentation, Dr. Wiles spoke about a summer road trip which gave her the opportunity to reflect on the past school year. Despite whatever challenges may have been encountered, the "absolute bliss" of Guilderland High School's graduation ceremony and the proud, beaming faces of GHS graduates as they crossed the stage overshadowed any challenges. As Dr. Wiles described "this is the joy that fills the souls of educators."
Dr. Wiles also reinforced the importance of teamwork and having good teammates who support each other. Likening the teaching teams of GCSD to an orchestra, she reminded staff to "put the mission first, know your role, do your part, ask for help, offer help, be a learner and support the team."
Saying farewell
After acknowledging the heartfelt loss of several members of the GCSD community, including former Lynnwood Elementary School Principal Alicia Rizzo, Dr. Wiles encouraged staff to visit the memorial garden at Farnsworth Middle School, which honors the memory of Dr. Demian Singleton. Mrs. Rizzo and Dr. Singleton were two educators who experienced much joy from teaching, each in their own way.
Busy summer months
Dr. Wiles described some of the many ways the district worked to serve its students over the summer months, including the ESY program at Guilderland Elementary School, ENL at Westmere Elementary School, the Butterfly Station at FMS, the FMS organic garden and Camp Intervention. In addition to these programs, the district transitioned to new technology platforms, including ParentSquare for all communications to families. Facilities work included the start of construction of learning pavilions at all seven GCSD school buildings. In addition, the playgrounds at all five elementary school buildings were upgraded and improved.
The equity teams from each of the seven school buildings met this summer to continue their work in diversity, equity and inclusion. In fact, more than 700 days of professional development work was completed by GCSD staff in July and August.
Dr. Wiles emphasized the district's mission of preparing each and every student for the future. This core value is the foundation for GCSD's commitment to students. Referring to the following quote from Henry David Thoreau, "what lies behind us and what lies ahead of us are tiny matters compared to what lives within us," Dr. Wiles encouraged the group to embrace what the future holds. "We never know what lies around a corner or a bend in the road; no matter the challenges that lie ahead, we all have the capacity to succeed."
Celebrating years of service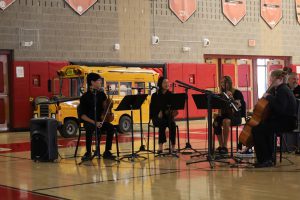 In addition to a presentation by Dr. Wiles, the GHS string quartet performed Eine Kleine Nachtmusik Mvt.1 by Wolfgang Amadeus Mozart to a standing ovation. All seven building administrators were introduced to the assembled group and then recognized instructional and non-instructional staff members who have reached the milestones of 20 years and 25 years of service.
Twenty years of service
Deb Anderson-Laraway
Shannon Bond
Pete Calabro
Paige Griggs
Josh Hughes
Lori Martin
Owen Whitfield
Twenty five years of service
Dennis Ball
Karylene Close
James Corona
Whitney DiGregorio
Colette Gallagher
Diane Geurin
Kristofer Gigante
Mark Kotary
Mark Lane
Christine Monlea
Colleen Petroff
Jennifer Politano
Catherine Ricchetti
Andrew Ryan
Colleen Sittig
Alicia Wein
Welcome back from GCSD leaders
The meeting agenda also included remarks from Regan Johnson, Assistant Superintendent for Human Resources, GCSD Board of Education President Dr. Seema Rivera and Guilderland Teachers' Association President Emily Mineau. Some highlights include: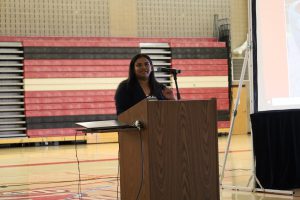 GCSD Board of Education President Dr. Seema Rivera enumerated the many ways Guilderland teachers and staff play a significant role in shaping the future of students. By providing space for the anti-hate rally, bringing best-selling authors to classrooms, fundraising to support causes such as the citizens of Ukraine, planning international nights and collecting books for a non-profit organization, GCSD staff are creating welcoming and engaging environments for students and their families that impact the school community in a positive way.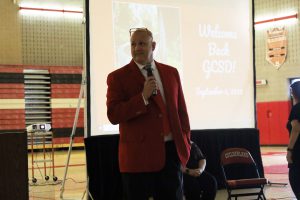 Assistant Superintendent Regan Johnson spoke about the new employees hired this past summer. He welcomed the more than 100 new GCSD members who will help support students in various roles by asking all new staff to stand to be recognized by their colleagues.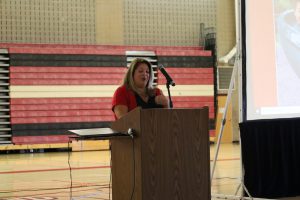 Guilderland Teachers' Association President Emily Mineau commented on the many benchmarks and milestones that are celebrated over the course of an educator's career. She acknowledged that this past summer the GTA celebrated its 50th year as part of the American Federation of Teachers. The GTA's commitment to educating young people, and often the next generation of teachers, has been strong since 1973. Mrs. Mineau recalled a chance encounter with a young teacher, just beginning her career. This young teacher happened to have been a GHS alumna who was inspired to choose the profession by Emily Spooner Smith, a teacher at GHS. Mrs. Mineau urged the group to celebrate the important role they play in the lives of young people, for they are keeping the legacy strong by inspiring future teachers.
Here's to a joyful school year!