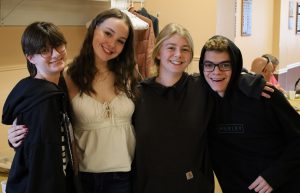 Friday, Nov. 18 was the annual day of service for students in the Guilderland High School Focus program. Traditionally held prior to Thanksgiving, this annual day of service provides students with the opportunity to acknowledge what they are grateful for while helping others in the community.
Given the choice of lending a hand at the Schenectady City Mission, the Altamont Food Pantry, the Guilderland YMCA, Westmere Elementary School, Farnsworth Middle School or GHS, students served meals, assisted with younger students and held a dance party for special education classes. After spending the morning giving back, the Focus students were treated to a luncheon celebration and time of reflection, held at the Guilderland Center firehouse.
At the the luncheon, students, teachers and administrators enjoyed a meal prepared by students and the Sciocchetti family. After dining, the Focus students had the opportunity to share with the group what they are thankful for. Many expressed their gratitude for the program, describing the difference it has made in their lives and spoke of the trust and care they feel for the program members, faculty and staff.
The Focus program is an institution at GHS
Part of the GHS curriculum for nearly 50 years, Focus is an alternative program for students who need additional guidance and support with the four A's: academics, attitude, attendance and actions. With approximately 70 students in the program, Focus provides smaller learning environments, where students are supported through more individual attention. Known as families, these smaller learning groups serve as the foundation of the program. Each family group consists of a maximum of 12 students and a Focus teacher/advisor; there are 11 adults working with the students, including teachers, a teaching assistant, a secretary and an administrator. The family groups enable the peers to encourage, support and hold each other accountable, leading to positive youth development.