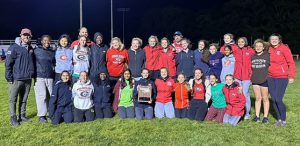 The Guilderland High School Girls Outdoor Track Team scored 183 points at the Section 2 Group 1 sectionals to claim the first team sectional title in school history. It was an amazing accomplishment to add to what was a historic season.
The win at the sectional championship completed an undefeated season for the varsity program which included:
8-0 dual meet season
Team championships at the following invitationals

Guilderland Frigid Cup
Lady Eagles Invitational
Nisky Warrior Classic
Colonie Relays
Shen Invitational
Eddy Meet

The GHS varsity team also won the Suburban Council Championship Meet
It was a true team effort at Sectionals as the team scored points in 18 of 19 events and had individual Section 2 Champions in nine events. Those include:
Individual Event Section 2 Champions

Kendall Barnhart: 200m Dash and 400m Dash
Addison Vellekoop: 800m Dash
Parker Steele: 100m Hurdles
Tatum Cramer: Long Jump
Kadija Sano: Shot Put
Avery Kerr: Pentathlon
4×100: Tatum Cramer, Kadija Sano, Parker Steele, Megan Swan
4×400: Megan Swan, Saida Assabahi, Addison Vellekoop, Kendall Barhart
The varsity Girls outdoor track team also broke 18 school records this season.
After this magical season the team isn't finished yet; the largest group of athletes in program history is going to states and nationals! Congratulations to all!