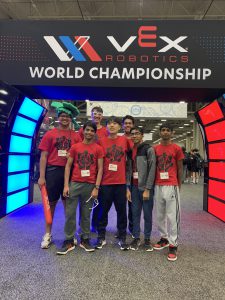 After taking third place at the state level, Guilderland High School Robotics Team 5501B was invited to compete in the 2023 Vex Robotics World Championship held in Dallas, TX, April 24-28. The members of Team 5501B are Ethan Chacko, Atri Dey, Josh Ko, Vivan Koyeda, Austin Sakeria and Isaiah Thomas.
The Vex Robotics World Championship is an invitation-only competition that brings together 800 teams from across the world to celebrate STEM (science, technology, engineering and math).
To earn an invitation to the global competition, the GHS Robotics Team 5501B was tasked with designing, building and programming a robot that would complete a series of challenges, both individually and in head-to-head competition.
Advised by GHS technology teacher Max Corbett, Robotics is a club, with six teams within the club. The teams design, construct, program, redesign and drive a robot that completes a series of different challenges each year. For this year's competition, the robot was required to pick up foam discs and launch them into a 20" goal in addition to completing other tasks.
Robotics teams build their robots from scratch using a computer, a lithium polymer battery, eight motors, wheels, a chain, sprockets, gears, axles and a variety of sensors. The robots must be programed to work autonomously and with a controller. Students record their successes and failures in an engineering notebook that is reviewed by judges during the competition.
This school year, all six of the GHS Robotics Teams competed locally. Four of the teams competed at the New York State Vex Robotics Competition, with Team 5501B invited to compete at the World Championship.
Vex Robotics encourages students to question and experiment, while improving their communication, collaboration and time-management skills and preparing students to become future innovators.
Congratulations to the GHS Robotics Team 5501B for earning an invitation to the exclusive world competition!