Seven GHS seniors recently had the opportunity to meet with two scientists who revolutionized cancer research.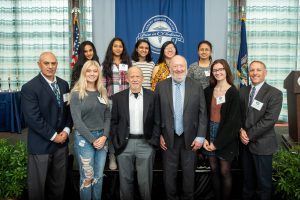 On September 24, the students attended the 2019 Albany Medical Center Prize in Medicine and Biomedical Research ceremony, where Drs. Bert Vogelstein and Irving Weissman were recognized for their discoveries in stem cell and cancer cell biology. Their research has led to innovative advances in fields ranging from oncology and immunology to cancer genomics and regenerative medicine.
Dr. Vogelstein discovered a key gene that plays a major role in human cancer,  and Dr. Weissman is renowned for his groundbreaking research on stem cells and its application to cancer therapy.
A special thanks to Albany Medical Center for the opportunity to attend, where students participated in a question-and-answer session with the honorees. 
---
Read more about these scientists, here: http://www.amc.edu/news/innovators-who-have-revolutionized-cancer-research-selected-to-receive-americas-most-distinguished-prize-in-medicine.cfm