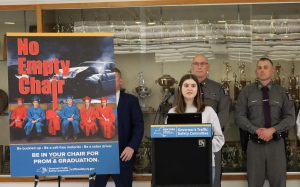 On Wednesday, April 19, the Governor's Traffic Safety Committee of New York and the New York State Department of Motor Vehicles (DMV) launched its annual "No Empty Chair" campaign at Guilderland High School. The teen driving safety education and enforcement campaign runs from April 24-28, with the purpose of raising awareness of highway dangers in the hope that there will be no empty chairs during prom and graduation season.
The event was attended by representatives of the DMV, the New York State Police and Albany Medical Center and featured several speakers, including GHS tenth grade student Natalie Deso. Natalie is Vice President of the GHS chapter of Students Against Destructive Decisions (SADD). "Unsafe driving could end the life of a person that has dreams and aspirations," she stated. "Gone in an instant. That's hard to think about."
Natalie joined SADD to make a difference, which she finds inspiring. The group tackles a new topic each month; to educate and inform students on the topic, the group makes public service announcements, flyers, videos and announcements.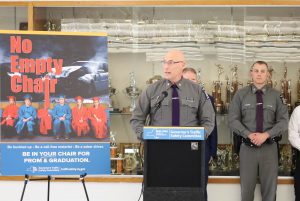 At the GHS "No Empty Chair" event, speakers included Deputy Commissioner of the DMV Owen McShane, New York State Police Major Brent M. Davison and Dr. Kurt Edwards from Albany Medical Center's Division of Trauma and Surgical Critical Care. Their messages reiterated the importance of making safe, smart decisions when operating a motor vehicle.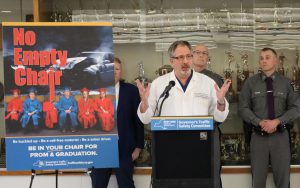 Following the speakers, GHS physical education classes participated in related activities, including the battle of the belts and the seat belt Convincer. The Convincer is an educational tool that simulates a slow speed collision allowing students to experience the force of such a collision, which is up to five times their body weight.
According to the Centers for Disease Control and Prevention, motor vehicle crashes are the second leading cause of death for U.S. teens. Car crashes are higher among teens ages 16-19 than any other age group.