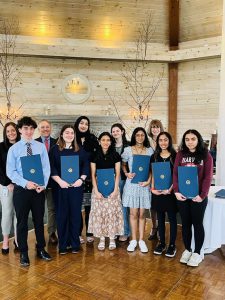 Eight Guilderland High School students were recognized for volunteerism, leadership and service to their community by the Capital District YMCA.
Andrew Altschule, Hasini Anireddy, Molly Foote, Rehana Firdaus, Juliana Gagliardi, Kiran Garcia, Zainab Gondal, Emily Nelligan and Ishanvi Roy, were honored among 20 area students at the Student and Educator Breakfast held at The Appel Inn in Altamont on Tuesday, April 25. Honorees were chosen for demonstrating leadership and service to their community.
Hasini Anireddy has volunteered as a tutor, a junior tennis coach and at the local library. Through working with youth, Anireddy has learned the importance of being a positive role model for children. Anireddy feels that the results of volunteering far exceed expectations and wants to continue to make a positive impact.
A junior, Andrew Altschule is a National Honor Society student and is involved in the Best Buddies, Ski, Badminton and Chemistry clubs. Altschule plans to continue to give back to the community and wants to help those going through hardships.
Rehana Firdaus is a sophomore at GHS and a member of Key Club. Firdaus enjoys volunteering at events within the school district, such as Trick-or-Treat Street, where she can interact with younger students. Firdaus' goal is to encourage other high school students to see the significance in community service and to giving back.
Molly Foote wants to become a special education teacher, which is reflected in the volunteer work Foote selects. Foote has completed over 150 volunteer hours helping others in need, especially children who have received a medical diagnosis.
A sophomore, Kiran Garcha, participates in clubs whose focus is on community service, such as Key Club and North Stars Club. Vice President of the Class of 2025, Garcha is a Salvation Army bellringer, makes cards for children at St. Jude Hospital and volunteers at the local food bank and library.
Zainab Gondal created a story time initiative for children in addition to working with students in an afterschool program and special needs children at the Muhsen program. Gondal also volunteers at a food bank and donation center and believes helping others strengthens leadership skills, listening skills and patience levels.
Emily Nelligan is a freshman at GHS and will be next year's Key Club Vice President. An active member of Sources of Strength and Lifting Guilderland Voices, Nelligan wants to make the world a better place, one day at a time.
Ishanvi Roy volunteers at the Red Cross and teaches self-defense to community members. A junior, Roy has gained experience and learned many skills from volunteering, including caring for patients at the local hospital. Roy hopes to continue making a difference in the future.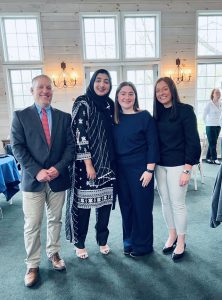 The YMCA Student and Educator Breakfast was attended by several community leaders, including Albany County Executive Daniel McCoy. Each honoree was awarded a number of governmental citations and a certificate.
The Capital District YMCA supports, engages, and strengthens the Capital Region community through programs and partnerships focused on youth development, healthy living, and social responsibility. The Capital District YMCA welcomes all people, enhances lives through personal growth opportunities and promotes diversity, equity and inclusion in all it does for youth, adults, families, and the community.