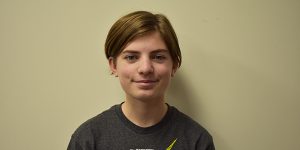 Farnsworth Middle School 8th grader Beth Irwin was just featured on the Facebook Watch show Bear Grylls: Face the Wild. The episode aired on April 11 on Facebook. A couple of weeks ago, Beth talked about her experiences on the show and shared as much as she could before it aired.
Beth says she responded to a mass e-mail late last year as the show was looking to feature people from different backgrounds. Beth herself is a Girl Scout Cadet, and says that played a role in her selection. The title of her episode? "Schooled by a Girl Scout".
When she was selected for the show, Beth got a Skype call from Bear Grylls himself. She says she wasn't expecting to see Bear himself on the other end of the call, and her eyes kind of bugged out when she recognized him.
Beth was flown out to the West Coast for the shoot, which she says was all done in less than a day. "It was really fun and completely different from what I expected," she said. She also raved about the amazing views, with lots of different environments in the relatively small area where the shoot took place.
Beth said that Bear was a very interesting personality, and says he taught her a lot of things that she would have never even thought about. One of her biggest challenges during the episode, she said, was the food. Beth says it really freaked her out.
At the end of the entire experience, Beth says she looks back on it as a great opportunity, and wants her fellow students and peers to not be afraid of taking chances. "Take a risk and try what you can when it's available," she said. "The worst they can say is no."