Thank you to all who donated
Guilderland schools have donated an overwhelming 2,128 books to Project: Cameron's Story, surpassing the goal of 2,000 books. This year the organization collected 29,134 books!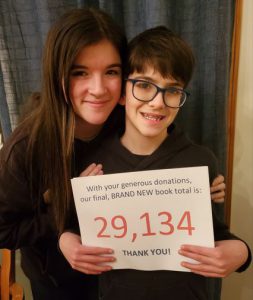 The breakdown of donations by GCSD school this year is as follows:
AES 97 books

GES 321 books
LES 179 books
PBES 160 books
WES 133 books
FMS 1193 books
GHS 45 books
In nine years, the GCSD school community has contributed 10,277 children's books to Project: Cameron's Story, a not-for-profit organization that collects new children's books for families of babies in the neonatal intensive care unit (NICU) at more than a dozen hospitals throughout New York, including Albany Medical Center, St. Peter's Hospital and Bellevue Women's Center.
For Guilderland's Project: Cameron's Story coordinator, teacher Jamie Mullins, this is an organization near to her heart. Her own son, born premature, was a recipient of a Project: Cameron's Story book. "I cannot thank everyone that helped to make this happen," said Mullins. "Cameron's mother, Sara, has said on more than one occasion how important the Guilderland school sites are to their cause. Thank you for your generosity and kindness and for continuing to support this amazing organization!"
Jamie Mullins and Sara Quartiers, the founder of Project: Cameron's Story, were recently interviewed on WTEN to raise awareness of the program and Guilderland was recognized as a top local collection site.
What is Project: Cameron's Story?
The goal of Project: Cameron's Story is to support the bonding of parents with their premature babies in the NICU through the use of children's literature and storytelling. To learn more about the organization, please visit the Project: Cameron's Story Facebook page or the organization's official website.