The 372 members of the Guilderland High School Class of 2019 and their families gathered at The State University of New York at Albany's SEFCU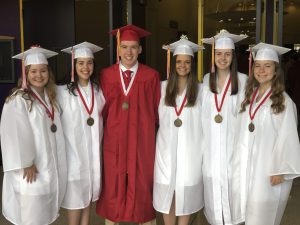 Arena on the morning of Saturday, June 29 for their commencement ceremony.
Speakers at the ceremony included Dr. Marie 
Wiles, superintendent; Michael Piscitelli, GHS principal and Christopher Gockley, GHS Tech Ed teacher.  A number of student speakers, Mikayla Jerominkek, Molly Broderick and Tyler Morse, also took the stage.
Senior class advisor Carrie Miller and school counselor Thomas Dvorscak announced the roll call, while Dr. Wiles and Board of Education President Christine Hayes presented students with their diplomas.
The audience was treated to a number of musical interludes, from the Guilderland High School Wind Ensemble and Chamber Choir seniors.
Congratulations to this year's graduates and best of luck in the future!