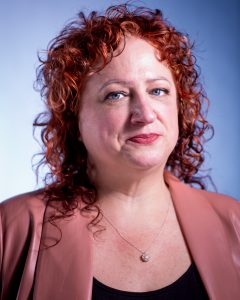 Guilderland High School English teacher Alicia M. Wein was awarded the University at Albany Alumni Association's Bertha Brimmer Medal for 2023, which celebrates excellence in teaching grades K-12.
In the last 26 years, Wein has distinguished herself as a gifted classroom teacher, an enthusiastic collaborator with community partners and a champion for meeting the needs of all students. She is frequently sought out by peers for advice and instruction in writing and is highly regarded as a teacher-leader across the Capital District. Known for creating rigorous and engaging curricula, Wein coordinates mediums like social media, film, music and literature into compelling learning experiences. She uses technology in innovative ways that draw students into learning, leading them to their own moments of insight and revelation.
"Alicia Wein is a transformative teacher," said Superintendent of Schools Dr. Marie Wiles. "Not only is she an excellent teacher but she fiercely advocates for her students, far beyond the classroom. We are very fortunate to have a teacher of her caliber, with such a strong commitment to her students, teaching in the Guilderland Central School District."
Wein supports GHS students in numerous programs to help ensure their success. She is the lead English instructor for the Syracuse University Project Advance (SUPA) program and through GHS Focus, has worked with students who need additional guidance and support with academics, attitude, attendance and actions.
A passionate proponent for equity and justice in education, Wein was a co-founder and advisor of GHS's Muslim Student Association and currently is a co-advisor of the school's LGBTQ+ Alliance. She also advised the students who founded the first chapter of the March for Our Lives movement in the Capital District.
A member of the Capital District Writing Project (CDWP) since 2004, Wein has served as CDWP co-director and co-facilitator of the Invitational Summer Institute. She has been honored for excellence in teaching by the New York State English Council, the Guilderland Central School District and the YMCA.
Wein earned a master's degree in educational theory and practice with a focus in secondary English education from the UAlbany School of Education in 2003.
Founded by the Class of 1934, the Bertha Brimmer Medal is named for a Class of 1900 graduate known for her devotion to teaching and service to the University. Learn more about the UAlbany Alumni Association's Excellence Awards.
Congratulations to Alicia Wein!