Congratulations to Justin Kapusinsky (Varsity Football) and Dwayne Jackson (Varsity Football) for earning DOW (Dutchmen of the Week) honors for the week of October 31.
Justin Kapusinksy (Varsity Football)
Justin scored two touchdowns in our final game of the season on Nov. 3 vs Troy. One was a receiving TD and one was a rushing TD. Justin also had an interception on defense. Justin finished the season as our top rusher and receiver, and registered the second most tackles on the team. He was also our top return man. Great season, Justin!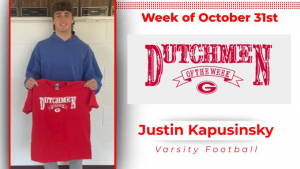 Dwayne Jackson (Varsity Football)
Dwayne also scored two TDs on Nov. 3 vs Troy. One was on a 26-yard interception return and the other on a 37-yard TD reception that sealed the game in the 4th quarter. Dwayne registered many tackles and hits from his Safety position on defense and finished the season in the top 5 in tackles on the team and led the team with three interceptions on defense. Way to go, Dwayne!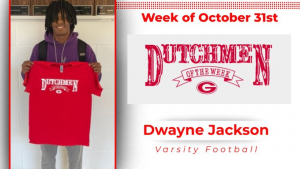 Dutchmen of the Week
Each week, we will highlight two student athletes (Modified, Mod 9, Frosh, JV or varsity level) for athletic accomplishments based on the following criteria.
The athlete should have made a significant impact on a contest within the nomination time frame, which is the week prior to selection; or
The athlete must have shown excellent leadership, sportsmanship, noticeable improvement/effort, community service and/or other notable trait(s).