Congratulations to Laila Smith (Varsity Softball) and Bevin McConaghy (Junior Varsity Boys Lacrosse) for earning DOW (Dutchmen of the Week) honors for the week of April 3-16.
Laila Smith (Varsity Softball)
Laila has helped the varsity softball team to a strong start to their season. During that time, she had a .611 batting average with 11 hits, 8 runs scored and 9 RBIs. The highlight of Laila's start to the season was hitting a 3 run home run in the bottom of the 7th inning against Colonie to force the game into extra innings. Congratulations, Laila!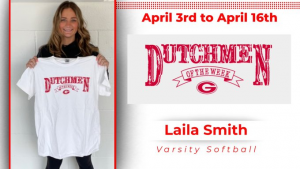 Bevin McConaghy (JV Lacrosse)
Bevin has been a key member of the JV girls lacrosse team to start the season. She made the jump from Attach to Midfield, being a game changer on draws and in the transition. Bevin is always a positive team member and does whatever she can to help the team succeed. Congratulations, Bevin!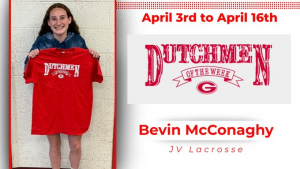 Each week, we will highlight two student athletes (Modified, Mod 9, Frosh, JV or varsity level) for athletic accomplishments based on the following criteria.
The athlete should have made a significant impact on a contest within the nomination time frame, which is the week prior to selection; or…
The athlete must have shown excellent leadership, sportsmanship, noticeable improvement/effort, community service and/or other notable trait(s).