Congratulations to Leah Michaelides (Junior Varsity Cheer) and Michael Uzzilia (Varsity Volleyball) for earning DOW (Dutchmen of the Week) honors for the week of October 24.
Leah Michaelides (JV Cheer)
Leah is an eighth grade student on the junior varsity cheer team. When she started, she didn't really know anyone on the team. She now encourages all of her teammates while practicing. She has grown so much since we started. She had been a base the whole season. When her teammate, who was a flyer, was out sick the day before a game, she stepped in and learned the techniques in half a practice. She is fun to coach and always brings positive energy to cheer.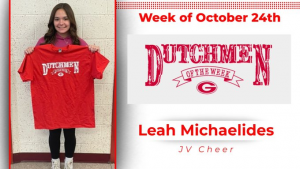 Michael Uzzilia (Varsity Volleyball)
Michael has been the varsity libero for the last three years. He has led the teams' defense during that time. He totaled 260 digs, 12 aces and 22 assists this season. He is the most consistent passer on our team and he is someone his teammates can count on day in and day out.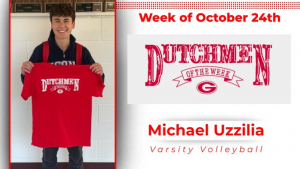 Dutchmen of the Week
Each week, we will highlight two student athletes (Modified, Mod 9, Frosh, JV or varsity level) for athletic accomplishments based on the following criteria.
The athlete should have made a significant impact on a contest within the nomination time frame, which is the week prior to selection; or
The athlete must have shown excellent leadership, sportsmanship, noticeable improvement/effort, community service and/or other notable trait(s).