On September 14, 2018, Lynnwood Elementary School Social Worker, Catherine Ricchetti was recognized as the 2018 National Association of Social Workers (New York State) Social Worker of the Year.
Catherine Ricchetti, LCSW-R, has been a social worker since 1988, and she has been with GCSD since 1995.
Back in 2003, Catherine began exploring animal assisted interventions (AAI), and she received permission to begin a pilot program training a dog in Guilderland schools.  Her  program was so well received that it has been implemented district-wide.  Thanks to her expertise, GCSD now has six dogs in six schools.
Catherine is so well-versed in animal assisted interventions, that she began writing and lecturing on how to create canine assisted social work programs in different facilities. She has also written two books on the subject:  "Service Trained Facility Dogs," previously published as "Dogs in School," and a children's book titled "Miss Siggy Speaks."
Congratulations Catherine!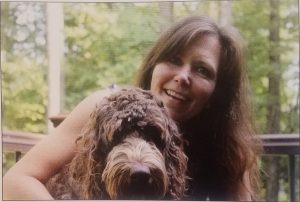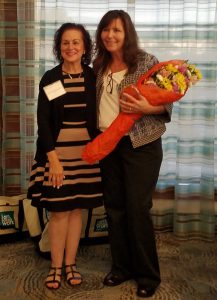 Pic 1: Catherine with Marcia Schwartzman Levy, NASW-NYS President
Pic 2: Catherine with her canine companion, Copeland