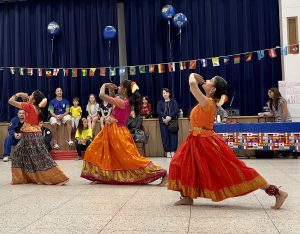 Recently the Lynnwood Elementary School PTA sponsored an International Night to celebrate the wide range of cultures within the school community. As expressed in the flyer promoting the event, "it's a small world and Lynnwood families come from many different countries," Brazil, China, Germany, India, Italy, Mexico, the Netherlands, Pakistan, Puerto Rico, Sri Lanka, Tibet and Ukraine were represented at the event.
LES students and their families volunteered to host tables set up throughout the school's gym. The tables featured food samples, artifacts, culturally significant items and poster presentations. Many participants wore traditional clothing or clothing related to their respective countries, such as saris or Brazilian soccer jerseys. One presentation which highlighted Italy even included a Vespa parked beside the table.
To cap off the night, several live performances showcased Indian dance, martial arts, Tibetan drumming, Mexican dance and Brazilian jujitsu; all but the jujitsu performance were given by students.
The International Night enabled students and their families to celebrate, embrace and explore the different cultural and ethnic heritages within the LES community.
Thank you to all who attended and helped make the event a success. Special thanks to the LES PTA for hosting this wonderful event!