Congratulations to Maddie Wren Varsity Basketball) and Myles White (Junior Varsity Basketball) for earning DOW (Dutchmen of the Week) honors for the week of Feb. 6.
Maddie Wren (Modified 9 Girls Basketball)
Maddie has really stepped up to finish off the 22-23 season. Against Columbia, she scored 14 of our 25 points. In the next game vs Saratoga, Maddie scored a career high 16 points. Her play helped her team to a 9-4 record this season!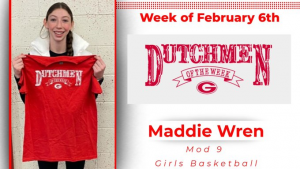 Myles White (Varsity Wrestling)
Myles placed third at the Section 2 State Qualifier. After getting beaten in the quarterfinals, Myles wrestled all the way back to third place. He avenged his quarterfinal loss by beating the Averill Park wrestler for the third place finish. A four-year varsity wrestler, Myles is a four-time Section 2 Qualifier, a four-time Class A place finisher and a two-time Section 2 place finisher. Myles has had a heck of a career for the Dutchmen.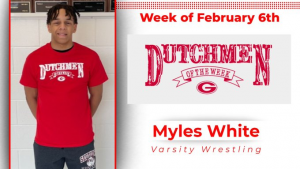 Each week, we will highlight two student athletes (Modified, Mod 9, Frosh, JV or varsity level) for athletic accomplishments based on the following criteria.
The athlete should have made a significant impact on a contest within the nomination time frame, which is the week prior to selection; or…
The athlete must have shown excellent leadership, sportsmanship, noticeable improvement/effort, community service and/or other notable trait(s).