Congratulations to Mia Giglio (Varsity Lacrosse) and Lillie Teague (Varsity Softball) for earning DOW (Dutchmen of the Week) honors for the week of May 8.
Mia Giglio (Varsity Lacrosse)
Mia played a phenomenal game against Columbia with 9 saves in net, helping her team clinch a 12-5 victory. Mia has stepped up as our starting goalie and has been integral in the team's success and morale.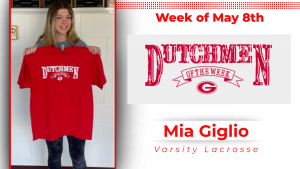 Lillie Teague (Varsity Softball)
Lillie has been consistent for our team all year. She has a perfect fielding percentage in the outfield and has stepped up in the role of relief pitcher. Last week, Lillie had a .333 batting average. She had 3 RBIs, scored 3 runs and stole 3 bases in our final league game of the year to lead us to an 8 and 5 league record and a #2 seed in the Class AA Sectional Tournament.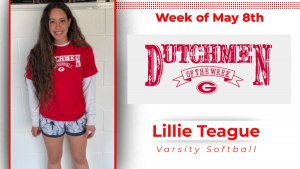 Each week, we will highlight two student athletes (Modified, Mod 9, Frosh, JV or varsity level) for athletic accomplishments based on the following criteria.
The athlete should have made a significant impact on a contest within the nomination time frame, which is the week prior to selection; or…
The athlete must have shown excellent leadership, sportsmanship, noticeable improvement/effort, community service and/or other notable trait(s).