Congratulations to Nick Ruf (Varsity Basketball) and Kyler Ackert (Junior Varsity Basketball) for earning DOW (Dutchmen of the Week) honors for the week of January 23.
Nick Ruf (Varsity Basketball)
Nick buried a game winning 3-point shot with seconds to go to defeat Averill Park on Jan. 27 by a final score of 41-38. It was one of Nick's four 3-point shots on the night. He led the team in scoring with 14 points. He followed this game with a game against Shaker where he had four more 3-point shots and 14 points. Way to go, Nick!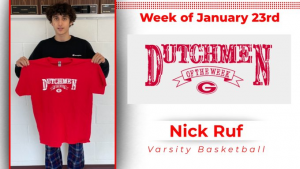 Kyler Ackert (Junior Varsity Basketball)
Kyler helped the junior varsity boys basketball team secure two wins vs Averill Park and Schenectady. Kyler had 14 points and 12 rebounds against Averill Park and 8 points and 7 rebounds against Schenectady. Kyler's natural skill as a post-player and his ability to defend multiple spots on the floor has helped his team find success this season. His contributions are a big reason his team competes in every single game.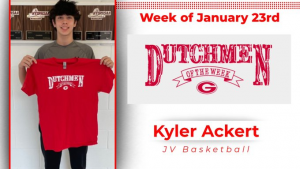 Each week, we will highlight two student athletes (Modified, Mod 9, Frosh, JV or varsity level) for athletic accomplishments based on the following criteria.
The athlete should have made a significant impact on a contest within the nomination time frame, which is the week prior to selection; or…
The athlete must have shown excellent leadership, sportsmanship, noticeable improvement/effort, community service and/or other notable trait(s).