Congratulations to Quinn Orsini (Varsity Boys Lacrosse) and Cooper McConaghy (Varsity Boys Lacrosse) for earning DOW (Dutchmen of the Week) honors for the week of March 27.
Quinn Orsini (Varsity Boys Lacrosse)
Quinn is a captain of the boys lacrosse team this season. He is coming off an injury he sustained in football season. He helped the team to a 1-0 start by scoring four goals and adding an assist in a win against Voorheesville.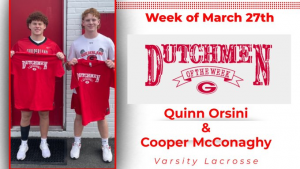 Cooper McConaghy (Varsity Boys Lacrosse)
Cooper has also played well for the Dutchmen to start the season. He led the way in the opening scrimmage vs. Scotia by scoring four goals. In the season opener against Voorheesville, he scored four goals and had two assists. He plays both ends of the field on offense and defense and is an important part of the puzzle the boys are putting together this season.
Each week, we will highlight two student athletes (Modified, Mod 9, Frosh, JV or varsity level) for athletic accomplishments based on the following criteria.
The athlete should have made a significant impact on a contest within the nomination time frame, which is the week prior to selection; or…
The athlete must have shown excellent leadership, sportsmanship, noticeable improvement/effort, community service and/or other notable trait(s).