Congratulations to Sebastien Carrero-Jones (Unified Cheer) and Lucy Vattimo (Junior Varsity Lacrosse) for earning DOW (Dutchmen of the Week) honors for the week of May 1.
Sebastien Carrero-Jones (Unified Cheer)
Sebastien decided he wanted to be involved with Unified Cheer from the moment he heard about it. From the first practice, he immediately took on a leadership role with the team. His background in cheer both in and out of school has helped him to not only perform the cheers extremely well, but to teach others. Sebastien leads with patience, kindness, grace and a high level of enthusiasm that is contagious to all. He has a natural way of working with individuals who have a variety of ability levels and creates modifications to make everyone on our team feel successful. Sebastien chooses to include and leads by example with his actions and positivity. GHS is a better place with Sebastien as a student!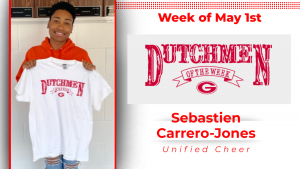 Lucy Vattimo (Junior Varsity Girls Lacrosse)
Throughout the season, Lucy has been a staple for our defense. Running a backer defense can be hard and having the right person in that role is essential for its success. Lucy is thoughtful, hardworking and pushes the rest of her team to do the same. Defense doesn't always get recognized because there are not a of statistics to keep; however Lucy is continually causing turnovers, grabbing ground balls and encouraging her teammates to do the same. Congrats, Lucy!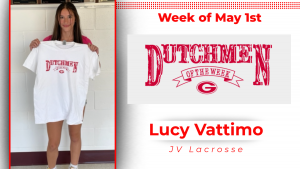 Each week, we will highlight two student athletes (Modified, Mod 9, Frosh, JV or varsity level) for athletic accomplishments based on the following criteria.
The athlete should have made a significant impact on a contest within the nomination time frame, which is the week prior to selection; or…
The athlete must have shown excellent leadership, sportsmanship, noticeable improvement/effort, community service and/or other notable trait(s).