Congratulations to Will Czaban (Unified Bowling) and Josh Hosey (Unified Bowling) for earning DOW (Dutchmen of the Week) honors for the week of March 6.
Will Czaban (Unified Bowling)
Will has been a member of the Unified Bowling team for over 3 years. Over the course of his time as an athlete in our program we have seen him improve his bowling skills, his overall independence, and his positive, social interactions. Will has made some significant gains this year in particular with how he is bowling. Will is able to set up his own ramp, choose and carry his own bowling ball, line up his shot with more accuracy, and celebrates his successes with his partner on the team with big smiles, clapping, and just pure joy. Will has the ability to work with anyone, but this year, his bowling partner and him formed a special friendship that goes beyond the bowling alley. Will enjoys his partner's company and likes working with him each time we have a practice match. We are so proud of Will and all of his accomplishments!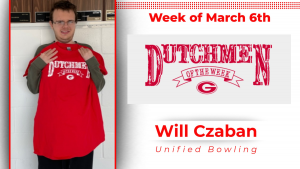 Josh Hosey (Unified Bowling)
Josh is an incredible person who shares his enthusiasm, kindness, and of course his bowling skills, with our Unified team. From the moment we connected Josh with an athlete on our team, it has been one of the most positive peer mentorships we have seen. Josh is not only a student who strives to help his athlete improve at bowling, but has made a real connection with him. There are times in our unified programs where a partner just understands how to step in and be the best version of themselves to assist another peer. Josh is truly that person. Josh has also been a helpful teammate to many others on the Unified Bowling team and we have appreciated all that he has done and continues to do for ALL of our students on the team.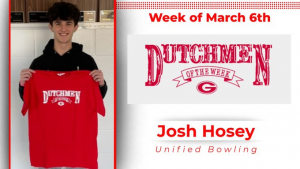 Each week, we will highlight two student athletes (Modified, Mod 9, Frosh, JV or varsity level) for athletic accomplishments based on the following criteria.
The athlete should have made a significant impact on a contest within the nomination time frame, which is the week prior to selection; or…
The athlete must have shown excellent leadership, sportsmanship, noticeable improvement/effort, community service and/or other notable trait(s).