Each month, the art teachers from Altamont Elementary, Guilderland Elementary, Lynnwood Elementary and Westmere Elementary highlight students who have demonstrated they are practicing Studio Habits of Mind. These eight habits – develop craft, engage and persist, envision, express, observe, reflect, stretch and explore, and understand art worlds – encourage and enable students to be more mindful during the creative process. This is not a contest; the Young Artist of the Month accomplishment acknowledges specific learning and critical thinking that happens in the art room, in relation to Studio Habits of Mind. The students' pictures and statements are framed and hung in the schools' entryways.
Altamont Elementary: Bobby Digeser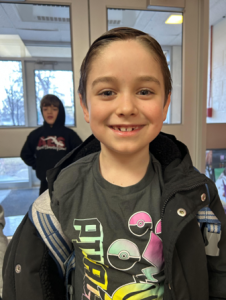 This month's featured artist of the month is Bobby Digeser in Mrs. Ciccarelli's first grade class. Bobby is a role model student who is always on task and ready to explore new ways of artmaking. In art we call this Studio Habit of Mind: "stretching and exploring." This means that he is not afraid to take risks; he is open to explore different approaches to art and learns through experimenting with materials. Bobby always has a smile on his face while creating wonderful one-of-a-kind art pieces. Excellent work Bobby!
Guilderland Elementary: Shourya Vardhan Potturu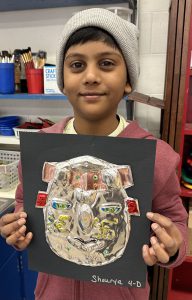 The April featured artist is Shourya Vardhan Potturu. Shourya is in Mr. Davis' fourth grade class. Shourya has demonstrated the Artist Habit of Mind of developing craft. He is learning to use and care for tools and materials as well as the practices of an art form. Shourya has excellent craftsmanship and is always striving to do his best work in art. He practices his drawing skills and challenges himself to learn new things. Learning to be an artist involves practice, hardwork and a willingness to try new things and maybe have things go wrong or not as you expected. Sometimes we learn more from these "mistake" moments in art. Shourya has shown a willingness to try and to keep on trying. Congratulations Shourya!
Lynnwood Elementary: Emma Wabby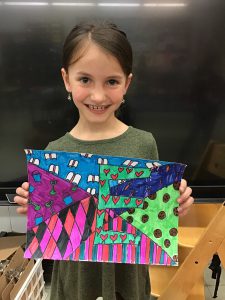 The Lynnwood Young Artist for the month of April is Emma Wabby. Emma is a second grade student in Mrs. Armlin's class. During Art, Emma embodies the Studio Habit of Mind; Express. Emma thinks carefully about her ideas and how to best express them through her artwork. She makes thoughtful choices to show her ideas. Emma works slowly and carefully to create her neatest work and can always be counted on to do her absolute best. Keep up the amazing work Emma!
Westmere Elementary: Dakota Lawler
This month's featured young artist is Dakota Lawler. Dakota is in Mrs. Krell's kindergarten class. He has demonstrated the Studio Habit of Mind: Stretch & Explore. When you stretch, you are trying something new that might be a challenge. When you explore, you are discovering new ideas. For this project, he explored mixing together the primary colors: red, yellow, and blue. Great job, Dakota!