Each month, the art teachers from Altamont Elementary, Guilderland Elementary, Lynnwood Elementary and Westmere Elementary highlight students who have demonstrated they are practicing Studio Habits of Mind. These eight habits – develop craft, engage and persist, envision, express, observe, reflect, stretch and explore, and understand art worlds – encourage and enable students to be more mindful during the creative process. This is not a contest; the Young Artist of the Month accomplishment acknowledges specific learning and critical thinking that happens in the art room, in relation to Studio Habits of Mind. The students' pictures and statements are framed and hung in the schools' entryways.
Altamont Elementary: Gloria Mock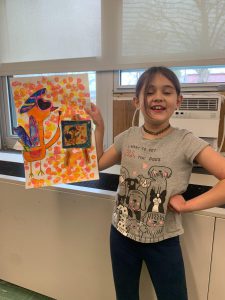 Gloria Mock, in Mrs. Poelma's third grade class, is the Altamont featured artist of the month. Gloria has done an excellent job demonstrating the studio habit: expression. When you express yourself through art-making, you are making works that convey personal meaning. Gloria always goes the extra mile to put her own spin on class projects and creates work that shows her personality and unique style. Gloria's positive attitude towards art rubs off on her classmates and she encourages others to express themselves in their artwork too. Awesome job Gloria!
Guilderland Elementary: Mateo Matarrese Fernandez
The Guilderland Elementary featured artist is Mateo Matarrese Fernandez.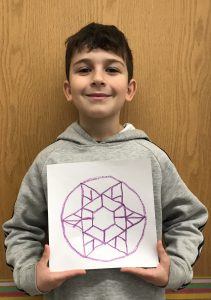 Mateo is in Mrs. Farrell and Mrs. Berry's third grade class. Mateo has exhibited the Artist Studio Habit of Mind: Develop Craft, which means he is learning to care for tools and materials as well as the practices of an art form. Mateo has been working hard on his Rangoli project. He works carefully and thoughtfully. Mateo takes his time in his work, making adjustments where he needs to and using the materials and tools appropriately, to help make his artwork the best it can be. Keep up the good work Mateo!
Lynnwood Elementary: Mason Siegard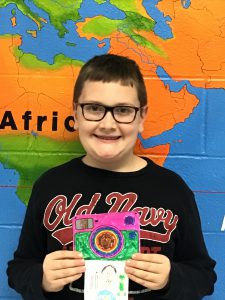 The Lynnwood Young Artist for the month is Mason Siegard. Mason is a fourth grade student in Ms. Janssen's class. During Art, Mason embodies the Studio Habits of Develop Craft and Engage and Persist. Mason works hard in class and isn't afraid to ask questions to help himself learn and grow. He shows he is persistent by trying his best even when a task might be difficult. During work time he focuses on his task and puts in his best craftsmanship every week. Congratulations Mason; keep up the amazing work!
Westmere Elementary: Hridhaan Desai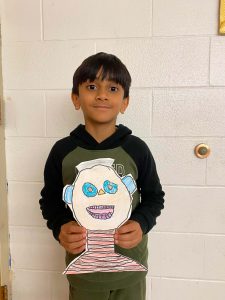 Hridhaan Desai is Westmere's featured artist of the month! Hridhaan is a second grade student in Mrs. Ranallo's class. He has demonstrated the Studio Habit of Mind: Expression. Hridhaan has been expressing his ideas in this project by drawing himself as a superhero; his power is flying. He continues to try his best and be kind to others. Great job, Hridhaan!