Each month, the art teachers from Altamont Elementary, Guilderland Elementary, Lynnwood Elementary and Westmere Elementary highlight students who have demonstrated they are practicing Studio Habits of Mind. These eight habits – develop craft, engage and persist, envision, express, observe, reflect, stretch and explore, and understand art worlds – encourage and enable students to be more mindful during the creative process. This is not a contest; the Young Artist of the Month accomplishment acknowledges specific learning and critical thinking that happens in the art room, in relation to Studio Habits of Mind. The students' pictures and statements are framed and hung in the schools' entryways.
Altamont Elementary: Alicia Salisbury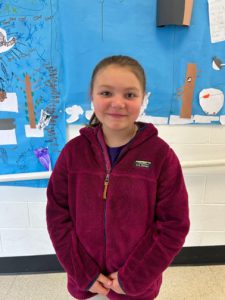 The Young Artist of the Month of February is Alicia Salisbury in Mrs. Poelma's third grade class. Alicia has done an excellent job demonstrating the Studio Habit of Mind: Expression. Third grade students at AES have been examining how artists use different colors and shapes to show personal meaning in their artwork. Alicia has shown amazing craftsmanship in her work, is always helping to keep the art room a clean and safe space and has learned to show her personality in her artwork. Great job, Alicia!
Guilderland Elementary: Emerson Nagel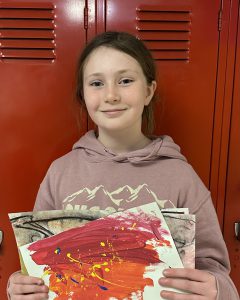 The February featured artist is Emerson Nagel. Emerson is in Mrs. Streck's fourth grade class this year. Emerson has exhibited the Studio Habit of Mind: Reflect, which means she has been able to talk about and assess the process of artmaking for herself and others. During the unit on Abstraction, Emerson has been a constant contributor to discussions about abstract art while also experimenting with materials and process. She is not afraid to try new things to see what will happen, assess what she can take from the experience and then use this to enhance her own work. Emerson has also used discussion time in art to reflect on her own thoughts and feelings associated with the work. She has demonstrated a thoughtful and high level of reflection when discussing artwork. Congratulations Emerson!
Lynnwood Elementary: Aditri Arya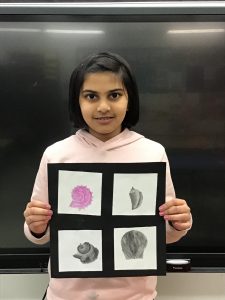 The Lynnwood Young Artist for February is Aditri Arya. Aditri is in fifth grade in Mr. Freeman's class. During art, Aditri embodies the Studio Habit of Mind: Stretch and Explore. To stretch and explore means an artist experiments and discovers new ideas and ways of working. Aditri embodies this by being a risk taker. She always challenges herself by choosing the hardest object to draw or the hardest material to master. Aditri experiments, asks questions, and persists until she is satisfied with her work. She also exhibits the Studio Habit of Mind: Reflect. She constantly thinks about what she is creating, makes changes along the way and thinks about what she could have done differently. Keep up the amazing work Aditri!
Westmere Elementary: Selina Adkins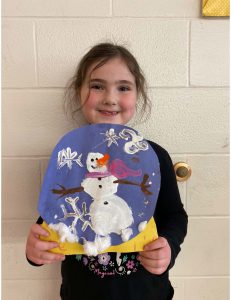 The February featured young artist is Selina Adkins. Selina is in Mrs. McFarren's kindergarten class. She has demonstrated the Studio Habit of Mind: Envision. Selina envisioned what she wanted her snowman to look like, before making it in this project. Take a look and all of the wonderful wintery details in her snowglobe! Superb job, Selina!