Each month, the art teachers from Altamont Elementary, Guilderland Elementary, Lynnwood Elementary and Westmere Elementary highlight students who have demonstrated they are practicing Studio Habits of Mind. These eight habits – develop craft, engage and persist, envision, express, observe, reflect, stretch and explore, and understand art worlds – encourage and enable students to be more mindful during the creative process. This is not a contest; the Young Artist of the Month accomplishment acknowledges specific learning and critical thinking that happens in the art room, in relation to Studio Habits of Mind. The students' pictures and statements are framed and hung in the schools' entryways.
Altamont Elementary: Riley Stevens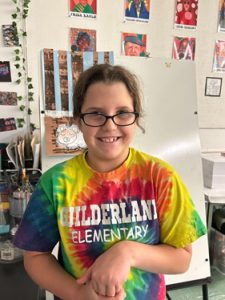 Riley Stevens in Mrs. Vogel's fourth grade class, enjoys using Procreate during her free time and has been developing her craft in digital art. She was so excited when the class was able to use Chromebooks to create a piece of digital artwork in art class! When working on developing their craft, artists improve their art skills through practice and begin to see connections between their work and others. Riley's hard work and practice is paying off and we are so excited to see where Riley's artwork can go from here. Way to go Riley!
Guilderland Elementary: Angel Doe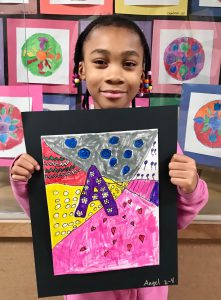 In Mrs. Youman's second grade class, Angel has exhibited the Artist Studio Habit of Mind: Envision. She is learning to mentally picture the next possible steps in her artwork. Angel is a thoughtful artist who can take an idea and imagine what it will look like when it is done. She is also willing to make changes as she works. If something does not go as planned, Angel can alter her idea and continue working. This shows her creativity as well as her perseverance and flexibility. Great job Angel!
Lynnwood Elementary: Jack Jacobson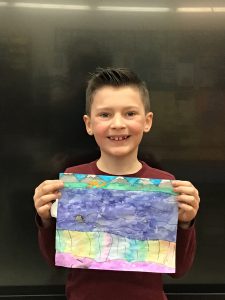 Jack is a second grade student in Mrs. LaPoint's class. Jack was nominated as Artist of the Month by a classmate and Mrs. Gillis couldn't agree more! During art, and throughout the school day, Jack embodies the Studio Habits of Express and Explore. In class Jack demonstrates expressing his ideas by making thoughtful choices about what ideas and details he includes in his artwork. He thinks through his choices carefully and like a true artist chooses those ideas that are most important to him. Jack embodies the idea of exploration by drawing outside of class to improve his skills. He has even been spotted drawing at recess! Congratulations Jack — keep creating!
Westmere Elementary: Mikey Dutchess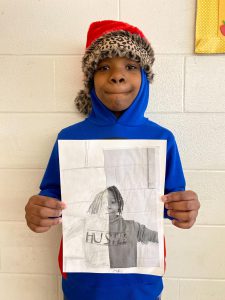 Mikey is in Mr. Brophy's fifth grade class. He has demonstrated the Studio Habit of Mind: Engage & Persist. Mikey has been very engaged in this project. He drew the missing half of his face by using a pencil and observing a photo. In art class, he persists by trying his best to improve his drawing skills. Wonderful work, Mikey!