Each month, the art teachers from Altamont Elementary, Guilderland Elementary, Lynnwood Elementary and Westmere Elementary highlight students who have demonstrated they are practicing Studio Habits of Mind. These eight habits – develop craft, engage and persist, envision, express, observe, reflect, stretch and explore, and understand art worlds – encourage and enable students to be more mindful during the creative process. This is not a contest; the Young Artist of the Month accomplishment acknowledges specific learning and critical thinking that happens in the art room, in relation to Studio Habits of Mind. The students' pictures and statements are framed and hung in the schools' entryways.
Altamont Elementary: Aria Welch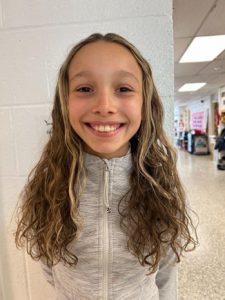 This month's featured artist of the month is Aria Welch in Mrs. Shaffer's fifth grade class. Aria is a very talented artist who focuses on developing her craft and reflecting on her work. She has shown great craftsmanship on her self portrait project and is always asking ways that she can improve her artwork. By taking her time and finding ways of creating that work best for her, she is creating beautiful artwork that she is proud to showcase. I can't wait to see what the rest of the school year has in store for Aria!
Guilderland Elementary: Sadie Risko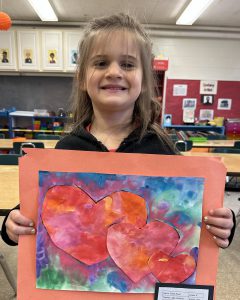 The May featured artist is Sadie Risko. Sadie is in Mrs. Makowski's Kindergarten class. Sadie has exhibited the Artist Studio Habit of Mind: Develop Craft! That means she is learning to care for tools and materials as well as the practices of an art form. Sadie has been working very hard in art to be a good listener, follow directions and experiment with materials while still using the tools and materials correctly. She is a helper in the art room and always remembers to follow the clean up directions. Sadie also has a positive attitude in art and is willing to try new things even if they are unfamiliar to her or seem hard. She embraces her ability to experiment and see what happens with a great big smile. She makes art as often as she can and is always willing to share. Way to go Sadie!
Lynnwood Elementary: Nahum Ilyas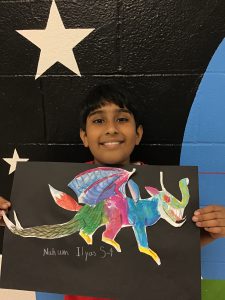 The Lynnwood Young Artist for the month for May is Nahum Ilyas. Nahum is a fourth grade student in Mr. Sorriento's class. During Art, Nahum embodies the Studio Habits of Observe and Reflect. Nahum is calm and focused in every class and this allows him to use his observation skills to closely look at and draw his subject. He is constantly reflecting on his work to edit and improve. He asks great questions to help himself grow as an artist. He is always willing to challenge himself! Congratulations Nahum! Keep up the amazing work!
Westmere Elementary: Anora Sakeria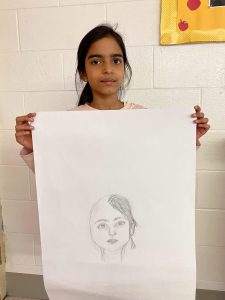 This month's featured young artist is Anora Sakeria! Anora is in Mrs. Quell's fifth grade class. She has demonstrated the Studio Habit of Mind: Developing Craft. Anora is using pencil to start this self portrait! She is paying close attention to the individual body parts that make up her whole entire face. Studying the size and relationship between objects in art is called proportion! She is making sure to draw lightly at first and use her eraser whenever she needs to. This will help to make her drawing look neat. Check out that good craftsmanship! Amazing artwork, Anora!