The GCSD athletic program is founded on the principle that the playing field is an extension of the classroom and the athletic experience contributes to the growth of mind and body.
The cornerstones of the Dutchmen tradition were laid generations ago by some of the community's most respected student-athletes, many of whom continue to be involved in the athletic program as supportive parents and sports boosters. While the names change from year to year, the principles they embodied remain the same–dedication and desire, cooperation and compassion, and the importance of working collectively toward a common goal. These are just some of the ideas that echo across the Guilderland playing fields and gymnasiums.
---
2020-21 Dutchmen of the Week
Each week, we highlight two student-athletes (Modified, Mod 9, Frosh, JV or Varsity level) for athletic accomplishments. 
---
Important Athletics Updates and Dates
Athletics Updates
Guilderland Football Are AA Champs
Congratulations, Guilderland Football, for capturing their first AA Championship in school history! The team defeated Shaker on April 30 in dramatic fashion by a final score of 21-20.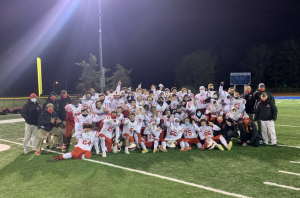 Coach Deb O'Brien Named NFHS Northeast Tennis Coach of the Year
Congratulations Coach Deb O'Brien, who was recently named the 2019-20 National Federation of State High School Associations northeast section Girls Tennis Coach of the Year.
The northeast section includes Connecticut, Maine, Massachusetts, New Hampshire, New York, Rhode Island and Vermont. Honorees were selected based upon their performance in the 2019-20 school year, lifetime community involvement, school involvement and philosophy of coaching. Coach O'Brien was also named the 2019-20 NFHS New York Girls Tennis Coach of the Year as well.
Coach O'Brien has flourished as the tennis coach at Guilderland. She has coached at least two seasons (Girls Varsity Tennis and Boys JV Tennis) in every year she has been at Guilderland. She has positively influenced thousands of students and student-athletes during her career. Under her leadership, Guilderland Girls Tennis has won several Suburban Council Championships and a Section 2 Championship as well. She has earned "Section 2 Coach of the Year" twice and currently serves as the Section 2 Chairperson for girls tennis.
Congratulations, Coach O'Brien. You make Guilderland proud!
Spring Season Spectators
Spectator guidelines have been created by working closely with the New York State Public High School Athletic Association (NYSPHSAA), Section 2, and the Suburban Council. The guidelines also follow guidance from the New York State Department of Health. 
At this time, only 2 spectators per student-athlete are allowed at all outdoor  athletic events this spring season.
All spectators must have a Suburban Council badge to enter an athletic contest. These badges are labeled by sport and level.
As per NYSDOH guidance, spectators must maintain six feet of physical distance between individuals and/or family/household units at all times and all spectators must wear face coverings when they are in common areas and situations where six feet of distancing is not able to be maintained, so as long as they are over the age of two and medically able to tolerate such covering.
All other Suburban Council schools will have very similar guidelines; however, it is best to check each school's homepage on Schedule Galaxy for exact guidelines.
Where to watch contests online
Guilderland Athletics YouTube page
Links to Suburban Council schools streaming pages
---
Athletics Dates
June 16: Last day of Spring sports
August 23: First day of Varsity, JV and Freshman fall sports
August 30: First day of Modified fall sports
---
Sports Sign-up Requirements
Students interested in playing school sports are required to sign-up in the school health office. Students will be given a sports packet to be completed and returned (in person, by mail, or by fax (High School) 518-861-5151 or (Middle School) 518-456-3747 before being cleared by the nursing staff prior to participating in tryouts for a particular sport. Additional sports packets will be available in the health office.
Please Note: The health history form must be completed no earlier than 30 days before the start of the sports season. 
The sports sign-up packet includes three forms:
Athletic Form which includes emergency contact information
Required NYS School Health Examination Form
Health History Update
This form cannot be completed earlier than 30 days prior to the start of the season.
You can find the forms here and download and print.
All three forms must be handed in before your try-out/practice starts. Students who do not follow this process and have not been approved by the health office will be considered ineligible for sports until they are cleared by nursing staff or our athletic trainer.
Information about
Sports Physicals
can be found in our Athletic Code of Conduct.