Congratulations to Lauren Kinley (Varsity Track & Field) and Ben Fiori (Varsity Lacrosse) for earning DOW (Dutchmen of the Week) honors for the week of May 23.
Lauren Kinley (Varsity Track & Field)
Competing in the shot put and discus events, Lauren has finished in the top 2 at every dual meet and in the top 5 in nearly every invitational. This week, Lauren finished 3rd in each event in Sectionals, helping the girls track and field team earn 2nd place with 149 points – the most points scored in team history. In this meet she threw a personal best of 34′ 5.5″ in shot put (6th all time at GHS) and 105'6 in discus (9th all time at GHS). Congratulations, Lauren!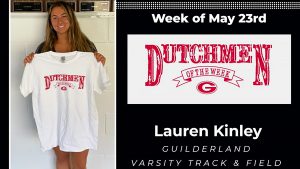 Ben Fiori (Varsity Lacrosse)
Ben held down the defense all season long for the sectional runner up boys lacrosse team. He always guards the opposition's best offensive player. He held his opponent to zero points for the 10th time this season vs Shaker in the sectional semifinal win. Congrats, Ben!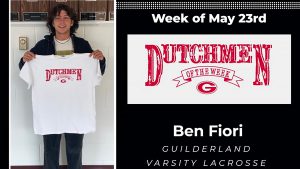 Dutchmen of the Week
Each week, we will highlight one male and one female student athlete (Modified, Mod 9, Frosh, JV or varsity level) for athletic accomplishments based on the following criteria.
The athlete should have made a significant impact to a contest within the nomination time frame, which is the week prior to selection; or
The athlete must have shown excellent leadership, sportsmanship, noticeable improvement/effort, community service and/or other notable trait(s).