Congratulations to Logan Broomhall and Marcus McClaine (Varsity Football) and Lauren Hoyle (Varsity Volleyball) for earning DOW (Dutchmen of the Week) honors for the week of April 26.
Logan and Marcus stepped up big in the AA Super Bowl at Shaker on Friday, April 30. On defense, Marcus led the team in tackles from the ILB position. On offense, he led the team in rushing (14 carries for 74 yards, 5.3 yards per carry) and caught two passes for 19 yards and a touchdown. It was his TD reception with 1:30 to go that brought the Dutchmen within 1 point of the lead.
Logan completed 11 of 19 passes for 98 yards and 1 passing TD against a stingy Shaker defense. He added 33 yards on the ground and ran for 2 TDs. Trailing 20-19, Logan crossed the goal line on a 2 point conversion to help lead the Dutchmen to their 1st AA Championship in school history!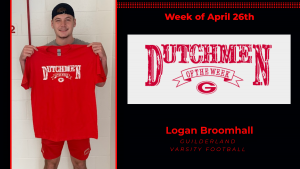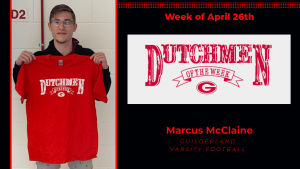 In terms of both offense and defense, Lauren has been our top producing and most consistent player throughout the season. Her ability on the court is extremely impressive – so much so that other teams have a game plan to figure out how to go around her and prevent her from being able to attack the ball. She is a triple threat in terms of kills, blocks and serving ability. In our quarterfinals match with Columbia, she was being triple blocked and still got 13 kills. She is a role model for younger players and a leader for her teammates. Her impressive season earned her a spot on the Suburban Council First Team All Star Team. Way to go, Lauren.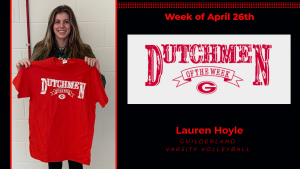 Dutchmen of the Week
Each week, we will highlight one male and one female student athlete (Modified, Mod 9, Frosh, JV or varsity level) for athletic accomplishments based on the following criteria.
The athlete should have made a significant impact to a contest within the nomination time frame, which is the week prior to selection; or
The athlete must have shown excellent leadership, sportsmanship, noticeable improvement/effort, community service and/or other notable trait(s).