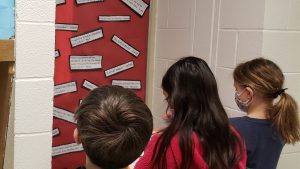 During the month of February, classes at Lynnwood Elementary created a museum to honor important figures for Black History Month. Classes studied an individual and created an exhibit on their class doors about the person's life and contributions.
"Just to have a foundation that everyone brings so much to our school and to our society and how important it is," said Barbara Goldstein, Associate Principal at Lynnwood Elementary.
Throughout March, classes are safely walking around the building to view all the exhibits created by the students and staff. The school created a virtual exhibit to share with remote learners.
"The magic of seeing a student not only learn the material, but really embrace it and be excited about it," Goldstein said. "It was really important to have a period of time where everybody in the whole school came together. Part of that is we are able to include our remote learners."
The idea to create a Black History Month museum throughout the school was led by Lynnwood Literacy Coach Nell Ball.
Students and staff at Lynnwood Elementary took the lessons they learned during February's Black History Month and turned them into a museum for the whole school to see. pic.twitter.com/klSpqmXWGn

— Guilderland Schools (@GuilderlandCSD) March 16, 2021