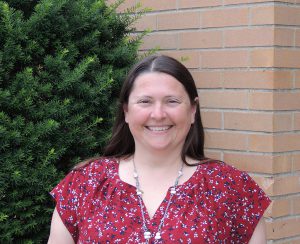 At its June 14 meeting, the Guilderland Central School District board of education appointed Rachel Anderson as the Assistant Superintendent for Curriculum and Instruction, effective July 1. Ms. Anderson replaces Lynne Wells, who has served in an interim capacity since October 2021 when Dr. Demian Singleton, then Assistant Superintendent for Curriculum and Instruction, passed away.
"I feel very fortunate to work in a district where there is a welcoming, family atmosphere; where people mentor each other and want to see others succeed," said Ms. Anderson. "I think that is really important and I hope to be able to continue that."
Ms. Anderson has been the Guilderland High School Instructional Administrator for Math, Science and Technology for four years. Prior to that, she taught for 16 years at Greenville High School and for one year at Argyle Central School District. A graduate of Cornell University, Ms. Anderson earned a bachelor of science degree in biology and a master's degree in teaching there. In addition, she was awarded a Certificate of Advanced Study (CAS) in educational administration from the University at Albany.
Ms. Anderson describes Dr. Singleton as "an institution" in GCSD, having spent 25 years as a teacher, instructional administrator and assistant superintendent. "I have big shoes to fill," said Ms. Anderson. "Demian was here for a very long time. I feel fortunate in some ways; in the short time I was able to work with him, he taught me a lot. I consider him one of my mentors. There's no way to completely fill those shoes but I hope to take what I learned working with Demian and incorporate that into this new role," explained Ms. Anderson.
Dr. Singleton was a proponent of diversity and equity and he worked to supply every student in the district with what they needed to learn and be successful. Ms. Anderson plans to further these aims in her tenure as the leader of curriculum and instruction for the district. "My vision is similar to Demian's; again, it goes back to that equity piece. I want to make sure we are providing a consistent and coherent education for all students." Something Ms. Anderson plans to address once she assumes her new role is to ensure cohesion in programming across all five GCSD elementary schools as well as the major transitions from fifth grade to sixth grade and eighth grade to ninth grade. While these are the broad strokes Ms. Anderson intends to focus on initially, she anticipates that with time her vision will become more refined.
"In addition to being a well respected and effective administrator at Guilderland High School, Ms. Anderson has considerable classroom experience, which has given her a deep and nuanced understanding of teaching and learning. These qualities are essential and make her a perfect fit for the Assistant Superintendent for Curriculum and Instruction position," said Superintendent Dr. Marie Wiles. "I am confident that with her experience and knowledge, she will lead and support our efforts to prepare all Guilderland Central School District students' for their future. We are all very excited to work with her to achieve our core mission.
Ms. Anderson resides in Greenville with her husband and two children along with various cats and dogs.