Congratulations to Emma Shao (Varsity Swimming & Diving) and Keeley Laplante (JV Field Hockey) for earning DOW (Dutchmen of the Week) honors for the week of October 3.
Emma Shao (Varsity Swimming & Diving)
This past weekend, Emma competed at the Shenendehowa Breast Cancer Invitational which drew 18 teams from across NYS. Emma placed 2nd in the 200 yard IM and 3rd in the 100 yard breaststroke, just .32 seconds away from qualifying for states. She was also a member of the 200 yd Medley Relay that finished 10th and the 400 yd free relay team that finished 8th. Emma is only a 7th grader!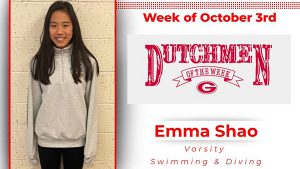 Keeley Laplante (JV Field Hockey)
As an 8th grader, Keeley has helped anchor the JV field hockey team's defensive unit by her consistent play. Last week, her team won 3 to 0 against Burnt Hills with Keeley being the main distributor of the ball. She also made some key tackles to help her team secure the shutout.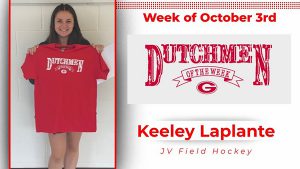 Dutchmen of the Week
Each week, we will highlight two student athletes (Modified, Mod 9, Frosh, JV or varsity level) for athletic accomplishments based on the following criteria.
The athlete should have made a significant impact on a contest within the nomination time frame, which is the week prior to selection; or
The athlete must have shown excellent leadership, sportsmanship, noticeable improvement/effort, community service and/or other notable trait(s).