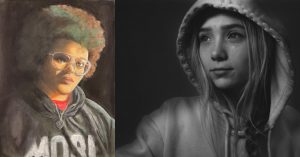 Their artwork on display for all to see. 
Eight Guilderland High students had their pieces chosen to be part of the 29th Annual Juried Art Exhibition at the Albany Center Gallery. 
Evalyse Peralta
Shruthika Manga
Renee Manzella
Nicolena Rush
Amelia Boswell-Penc
Jaden Smith
Emily Salisbury
Kylie Ocasio
You can view digital versions of the artwork here. 
The students got a chance to celebrate their accomplishment at an opening reception on March 24.  28 school districts submitted 573 pieces overall.  Out of those 107 works of art were chosen.
The exhibit is open until April 22.  The works of art can be seen in person at Albany Center Gallery, 488 Broadway, Suite 107, Albany, NY 12207.
Congratulations to these talented artists, as well as their art teachers!