Congratulations to Gianna Fonti (Junior Varsity Cheer) and Isabella Ayers (Junior Varsity) Basketball) for earning DOW (Dutchmen of the Week) honors for the week of November 29.
Gianna works hard at being a leader on her team.  She comes in early to help out the new cheerleaders and is always one of the last to leave at the end of practice.  She puts everything she has into every practice.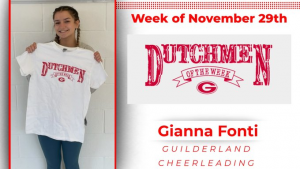 Isabella joined the JV team this year for her first year of competitive basketball.  In her first league game against Columbia, she led all scorers with 17 points and dominated on defense.  Her work ethic is an example to be followed by even the most experienced players.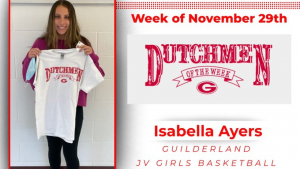 Dutchmen of the Week
Each week, we will highlight one male and one female student athlete (Modified, Mod 9, Frosh, JV or varsity level) for athletic accomplishments based on the following criteria.
The athlete should have made a significant impact to a contest within the nomination time frame, which is the week prior to selection; or
The athlete must have shown excellent leadership, sportsmanship, noticeable improvement/effort, community service and/or other notable trait(s).