Congratulations to Holden McLean (Modified Cross Country) and Will Smitas (Varsity Cross Country) for earning DOW (Dutchmen of the Week) honors for the week of September 26.
Holden McLean (Modified Cross Country)
Holden has had an amazing first half of the season. He led his team to victory on 9/28 vs Shaker by a score of 32-33 by finishing 1st overall in the race. He came back on Saturday with an 8th place finish out of a field of 200. His performance at this meet helped his team finish 3rd overall. His average mile pace has decreased by almost 30 seconds. Awesome job, Holden!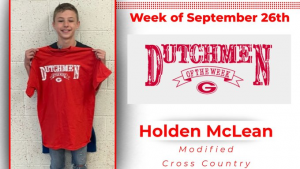 Will Smitas (Varsity Cross Country)
Will came into this season well conditioned after a summer of big miles and quality workouts. As a Sophomore, Will has been in our top 3 finishers every meet this season. He had an outstanding performance at the competitive Queensbury Invy, where he ran 16:29 for a 5K course. This past week he came in 1st place at our league meet vs Burnt Hills, Colonie, leading his team to a victory and a perfect 11 and 0 start to the season. He is a hard worker who always pushes himself and his teammates to prioritize workouts and to make the most of their training.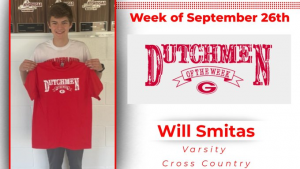 Dutchmen of the Week
Each week, we will highlight two student athletes (Modified, Mod 9, Frosh, JV or varsity level) for athletic accomplishments based on the following criteria.
The athlete should have made a significant impact on a contest within the nomination time frame, which is the week prior to selection; or
The athlete must have shown excellent leadership, sportsmanship, noticeable improvement/effort, community service and/or other notable trait(s).