Congratulations to Maeghan Hickey (Varsity Track & Field) and Nick Plue (Varsity Baseball) for earning DOW (Dutchmen of the Week) honors for the week of April 25.
Maeghan Hickey (Varsity Track & Field)
Maeghan ran an insanely fast 15.21 in the 100m hurdles, breaking a Guilderland High School record that has stood for 12 years. Her performance in the hurdles has her currently ranked 6th in New York State! Maeghan is one of the most dedicated, hard working athletes you will ever meet. We are so proud of Maeghan and all other accomplishments!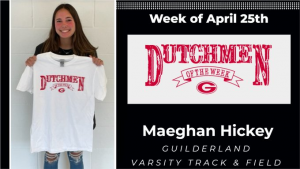 Nick Plue (Varsity Baseball)
Nick Plue had a big week for the varsity baseball team last week. He went 8 for 10 at the plate, scoring a total of 9 runs and collected 8 RBIs. He hit 3 home runs and stole 4 bases. Nick's strong play has the Dutch baseball team atop the Suburban Council standings as they head into the home stretch of their season. Way to go, Nick!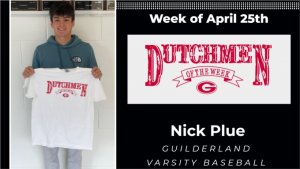 Dutchmen of the Week
Each week, we will highlight one male and one female student athlete (Modified, Mod 9, Frosh, JV or varsity level) for athletic accomplishments based on the following criteria.
The athlete should have made a significant impact to a contest within the nomination time frame, which is the week prior to selection; or
The athlete must have shown excellent leadership, sportsmanship, noticeable improvement/effort, community service and/or other notable trait(s).