Congratulations to Megan Swan (Varsity Indoor Track & Field) and Christina Williams (JV Basketball) for earning DOW (Dutchmen of the Week) honors for the week of January 16th. 
Megan Swan (Varsity Indoor Track & Field)
Megan had an amazing day at the Suburban Council Championship last weekend.  She placed first in both the 300m dash and the 45m dash.  Her 300m dash win was a great example of the type of athlete Megan is.  She pushed herself to the limits to hold off the 2nd place finisher by just .04 seconds!  Megan has worked incredibly hard to become one of the top sprinters in Section 2 and will do anything to help her team win.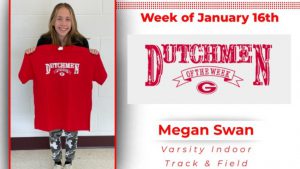 Christina Williams (JV Basketball)
Christina has been a leader on the JV girls basketball team this season but had two of her best games of the season last week.  In a close contest against a strong Albany team, Christina poured in a career high 23 points!  She then followed this with a 22 point performance in a close win over Troy on Friday.  Christina continues to lead the 12 and 5 JV team in points, assists and steals!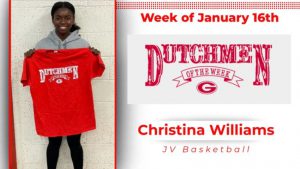 Each week, we will highlight two student athletes (Modified, Mod 9, Frosh, JV or varsity level) for athletic accomplishments based on the following criteria.
The athlete should have made a significant impact on a contest within the nomination time frame, which is the week prior to selection; or…
The athlete must have shown excellent leadership, sportsmanship, noticeable improvement/effort, community service and/or other notable trait(s).